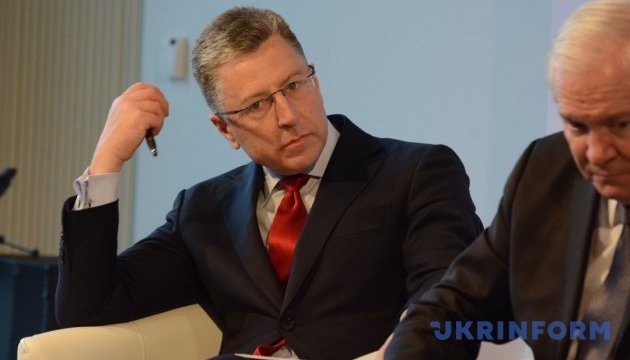 Volker sees elections in Russia as a turning point for talks on Ukraine
U.S. Special Representative for Ukraine Negotiations Kurt Volker has said he believes that the Russian side will not make any decisions on the Donbas settlement until the presidential elections in Russia are held.
He said this at a lunch meeting at the Center for the National Interest public policy think tank in Washington on February 26, Ukrinform reports.
"What we have proposed is for a UN mandated peacekeeping force to go in and replace Russian forces and the separatist entities and create a secure space for a period of time where you can have local elections, where amnesty would be granted, where special status is granted," the U.S. diplomat said.
At the end of that process, in accordance with the Minsk agreements, then the territory would be restored back to Ukraine, Volker said. But he stressed that until now, there have been few tangible results.
"We've been at this for about seven months, and I have to say that I'm very pleased with the positioning, but I am not pleased with the results because there are no results," Volker said.
According to him, what is transpiring in Ukraine is anything but a frozen conflict; rather, combat continues.
In his opinion, the fundamental problem is that Moscow is skeptical of Washington and its intentions, particularly with regard to sanctions relief. However, the Trump Administration hopes to offer Russia relief for sanctions that are specifically related to the Minsk agreements. Moreover, there is no clear gain for Russia if it chooses to withdraw - only some of the sanctions would be lifted while Ukraine would continue to drift toward the West.
Meanwhile, it is unclear what approach Moscow might adopt after Russian President Vladimir Putin's reelection campaign.
But no action is likely on the part of Russia until the elections are resolved, according to Volker.
When asked if an all-out Russian escalation might be a possibility, Volker said that he does not believe the Kremlin has the military capacity to launch a full-scale conventional invasion of Ukraine.
"The prospect for increasing the conflict is just too costly for Russia even if you are talking about asymmetric warfare. I just don't see it. Ukraine is a much more resilient country than anyone ever expected," he said.
op