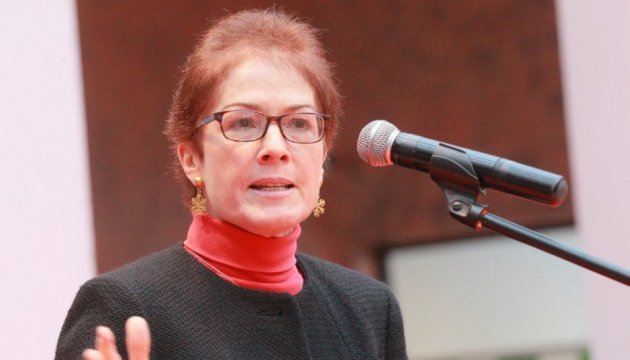 U.S. to keep sanctions against Russia until it returns Crimea to Ukraine - Yovanovitch
The United States will never accept Russia's occupation of Crimea and will keep sanctions against Russia in place until the occupied peninsula is returned to Ukraine's control.
U.S. Ambassador to Ukraine Marie Yovanovitch said this at the fourth international forum "Occupied Peninsula: Four Years of Resistance" in Kyiv on Monday, an Ukrinform correspondent reports.
"The United States has not and will not forget Crimea. U.S. Secretary of State [Rex] Tillerson said in December: 'We will never accept Russia's occupation and attempted annexation of Crimea.' Crimea-related sanctions will remain in place until Russia returns full control of the peninsula to Ukraine," she said.
She noted that the issue of Crimea remains on the agenda of the United States and international organizations.
Yovanovitch stated that Russia continued to violate international law and human rights in the occupied peninsula and that Russia's FSB was intensifying pressure on those disagreeing with the Kremlin's policy in Crimea.
"Russian security services have engaged an intense and massive campaign of intimidation to suppress dissent and stifle opposition to the occupation. Their tactics have included extrajudicial killings, kidnappings, raids, disappearances, arbitrary detentions, physical abuse, torture, deportation, and harassment. They've limited freedoms of expression, association and peaceful assembly," she said.
She promised that the United States would work with Ukraine and international partners to restore the state's territorial integrity.
In late January 2018, the United States expanded the list of sanctions against Russia because of the situation in Ukraine by adding 21 individuals and 12 organizations.
op