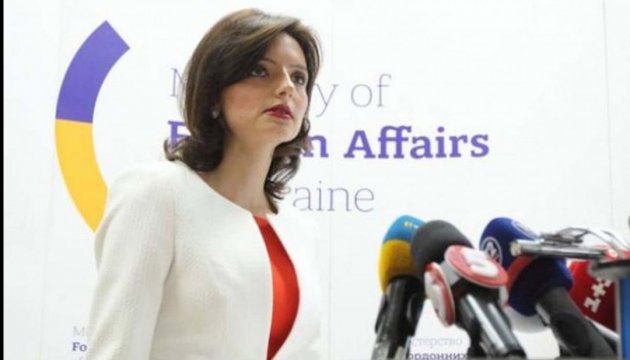 Kyiv responds to statement by Moscow regarding law on Donbas reintegration
Ukraine seeks peace, but Russia wants a war, Ukrainian Foreign Ministry spokeswoman Mariana Betsa has reported on Twitter.
"Ukraine seeks peace, but Russia wants a war. Armed aggression against Ukraine has lasted for four years, in violation of international law and Minsk [agreements]. Ukraine is committed to the Minsk agreements. Russia has to withdraw its troops, equipment from Ukrainian territory and stop aggression," she wrote on Saturday, February 24.
Earlier, the Russian Foreign Ministry issued a statement on its website regarding the law on Donbas reintegration, which entered into force in Ukraine on February 24. In particular, it notes that Kyiv finally confirmed its focus on a military solution to the conflict in eastern Ukraine.
As reported, on January 18, 2018, the Verkhovna Rada adopted the law on the peculiarities of the state policy on ensuring Ukraine's state sovereignty over temporarily occupied territories in Donetsk and Luhansk regions, in which Russia is recognized as an aggressor country, which carries out temporary occupation of part of Ukrainian territory.
The document determines the date for the beginning of occupation of part of Ukraine, in particular, Crimea and Sevastopol - February 20, 2014.
op