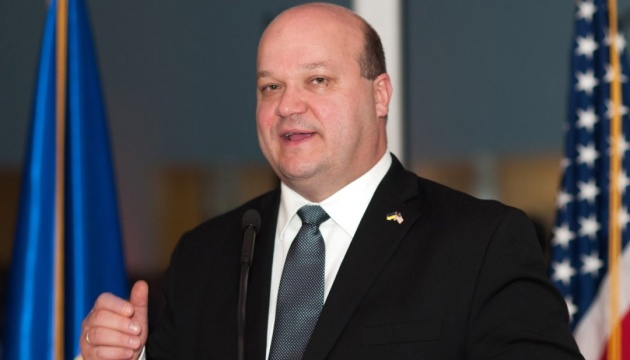 Ambassador Chaly: United States views Ukraine as serious strategic partner
Official Washington views Ukraine as a promising strategic partner for security and defense as well as other sectors, the dialogue in which has been intensified in recent years.
Ukraine's Ambassador to the United States Valery Chaly said this in an exclusive commentary to an Ukrinform correspondent.
"Three years ago it was difficult to say that the Americans view Ukraine as a strategic partner in the long term. However, now we see that certain goals can be achieved only in close cooperation. The US is now seriously considering Ukraine as a strategic partner at least in the field of security and defense," the Ukrainian diplomat stressed.
However, he said, "strengthening energy security and economic ties amplifies this partnership."
As the Ambassador recalled, this year marks the 10th anniversary of the adoption of the Ukraine-US Charter on Strategic Partnership. "It is symbolic that our relations have really intensified this year," he said.
According to him, this concerns the contacts both at the highest level and the departmental level. "In fact, for the first time we have held the meetings of the heads of almost all departments of Ukraine and the United States, i.e. we have launched a full-fledged mechanism for interaction within the executive branch and legislative bodies and we further work in this direction," the diplomat noted.
In his opinion, the most important thing is to establish direct economic ties with the American companies, bring them to the Ukrainian market and provide assistance to Ukrainian exporters in the US.
"The signing of a $1 billion framework agreement with the General Electric Transportation, plans to work with Westinghouse and Holtec, signing of OPIC guarantees, further infrastructure projects, joint production of missiles and aircraft are the opportunities to change Ukraine's environment for foreign business," Chaly stressed.
ol