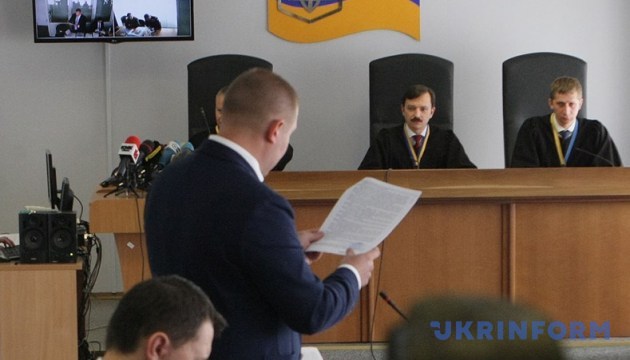 Court rejects request from Yanukovych's lawyers to question Poroshenko again
Obolonsky District Court of Kyiv has rejected a petition from former Ukrainian President Viktor Yanukovych's defense team to question incumbent President Petro Poroshenko in the case on the ex-president's high treason, an Ukrinform correspondent reports.
"The defense team's petition regarding a repeated interrogation of Petro Oleksiyovych Poroshenko has been rejected, since this petition is not well-founded. The court again notes and draws the attention of the defense team to the fact that yesterday it was given a unique opportunity to ask all questions, but for one reason or another the defense team did not use it , abusing their procedural rights, which was established at yesterday's court session," Presiding Judge Vladyslav Deviatko said.
Earlier, Yanukovych's lawyer, Andriana Fozekosh, filed a petition for Poroshenko's repeated interrogation due to the absence of opportunity to put all questions to the witness.
Previously, the court questioned Permanent's Permanent Representative to the United Nations Volodymyr Yelchenko and Ukrainian President Petro Poroshenko. At this stage, the questioning of witnesses from the prosecution ended.
On February 21, Poroshenko testified via a video link from his administration at a court hearing on the high treason of former President Viktor Yanukovych.
On June 29, 2017, Obolonsky District Court of Kyiv ruled to hold a special court proceeding against Yanukovych.
According to the Ukrainian Prosecutor General's Office, Yanukovych is suspected of committing crimes envisaged by Part 1, Article 111 (high treason), Part 5, Article 27, Part 3, Article 110 (complicity in intentional actions committed to change the boundaries of the territory and the state border of Ukraine), Part 5, Article 27, Part 3, Article 437 (complicity in waging an aggressive war) of the Criminal Code of Ukraine.
op