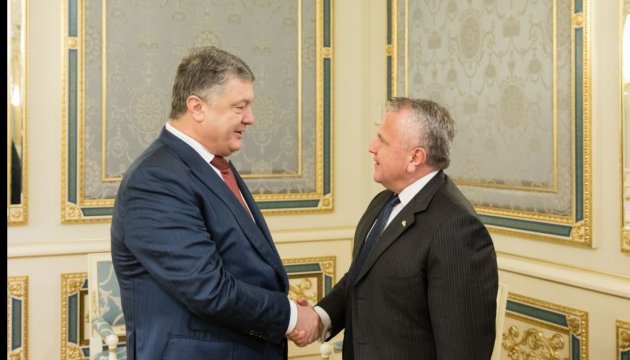 Poroshenko, Sullivan discuss prospects for UN force in Donbas
Ukrainian President Petro Poroshenko, U.S. Deputy Secretary of State John Sullivan have discussed the situation in Donbas, prospects for the deployment of a UN peacekeeping force, the law on Donbas reintegration and sanctions against Russia.
The meeting took place in Kyiv on February 21 as part of Sullivan's visit to Ukraine, the press service of the head of state reports.
"President Petro Poroshenko met with Deputy Secretary of State of the United States John Sullivan. During the meeting, the parties discussed the security situation in Donbas, further steps in the framework of the peaceful settlement, in particular regarding the deployment of an effective United Nations peacekeeping mission in Donbas," the statement reads.
In particular, the president stressed that Ukraine is focusing efforts to resolve the situation in Donbas by political and diplomatic methods based on the Minsk agreements. In this context, the importance of adopting the law on reintegration was pointed out.
In addition, the parties confirmed the need to continue the coordinated policy of sanctions against Russia until the full implementation of the Minsk agreements, as well as the restoration of the sovereignty and territorial integrity of Ukraine, including Crimea.
The interlocutors raised the issue of implementation of the reform program in Ukraine, in particular, as part of continued cooperation between Ukraine and the IMF. They emphasized the importance of adopting bills on the creation of the Anti-Corruption Court and on the national security of Ukraine.
Poroshenko and Sullivan also discussed the issues of activating the bilateral institutional mechanisms of cooperation in order to strengthen Ukrainian-U.S. strategic partnership.
op