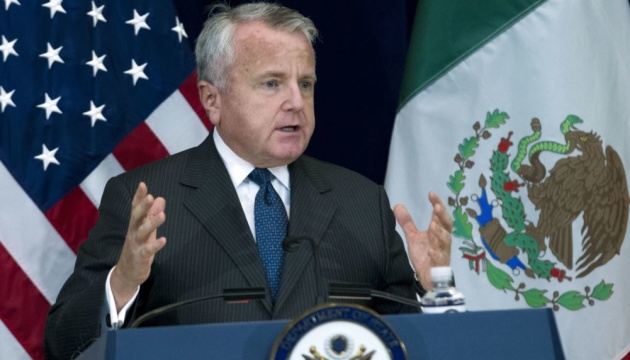 Deputy Secretary of State Sullivan: US will do its utmost to help restore territorial integrity of Ukraine
The United States of America provides its steady support for a stable, free and democratic Ukraine and will assist in restoring its territorial integrity in every possible way.
U.S. Deputy Secretary of State John Sullivan said this while delivering a speech on U.S.-Ukraine relations in Kyiv, an Ukrinform correspondent reports.
"The United States provides its steady support for a stable, democratic and free Ukraine. We will do our utmost to help restore the territorial integrity," Sullivan said.
He noted that "the Russian aggression has created a very serious unity among Ukrainian citizens and harmed Russia's reputation in the world arena."
"It costs Russia very serious efforts, which would be better directed at raising living conditions for its citizens," Sullivan said.
According to him, "given such high cost, everybody must understand the American policy: Crimea is Ukraine, Donbas is Ukraine, we will never exchange one region of Ukraine for another."
ol