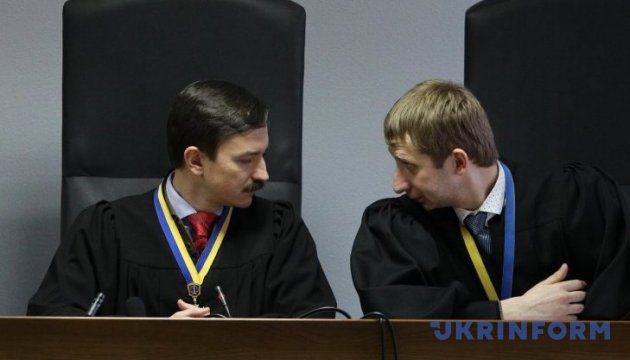 Court permits to question Poroshenko in Yanukovych treason case via video link
Obolonsky District Court of Kyiv, which is considering the case on high treason charges against former President Viktor Yanukovych, has allowed questioning Ukrainian President Petro Poroshenko via a video link.
Presiding Judge Vladyslav Deviatko read out a respective decision on Wednesday, an Ukrinform correspondent reports.
"In the court session, the prosecutor filed a petition for the questioning of witness Petro Poroshenko via a videoconference with a reference to a relevant letter from the Presidential Administration, which set out reasonable grounds for such an interrogation. Given that the prosecution provided sufficient grounds for questioning the witness via a videoconference, a panel of judges believes that the petition can be satisfied. The court upheld the petition of the prosecutor to hear the witness via a videoconference," the judge said.
Yanukovych's lawyer, Vitaliy Serdiuk, said that they have more than 200 questions to Poroshenko.
"The court guarantees that you will have twice as much time than the prosecution in order to interrogate Poroshenko," the judge replied.
At a session on February 21, Obolonsky District Court of Kyiv plans to question Poroshenko and Ukraine's Permanent Representative to the UN Volodymyr Yelchenko.
According to the Prosecutor General's Office, Yanukovych is suspected of committing crimes provided for in Part 1, Article 111 (high treason), Part 5, Article 27, Part 3, Article 110 (aiding in intentional actions committed with the aim of changing the boundaries of the territory and the state border of Ukraine), Part 5, Article 27, Part 3, Article 437 (aiding in waging an aggressive war) of the Criminal Code of Ukraine.
op