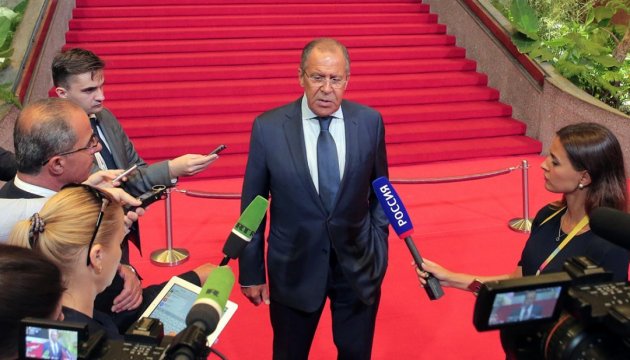 Lavrov says NATO provoked Russian aggression in Ukraine
Russian Foreign Minister Sergei Lavrov has said that NATO enlargement has led to a situation that he described as a "Ukrainian crisis."
Lavrov said this in an interview with Serbia's BETA news agency, which was published on the website of the Russian Foreign Ministry.
"The Ukrainian crisis has not become the cause of current relations between Russia and the West. It has most likely become a consequence of the policy that Western countries, primarily the United States and NATO countries, carried out after the end of the Cold War. Instead of taking advantage of the unique historical chance and forming a truly pan-European security and cooperation structure, the West has opted for NATO expansion," Lavrov said.
He traditionally accused NATO of "three waves of expansion of the organization" and added that the Alliance had supposedly made Ukraine choose either the West or Russia. As a result, according to Lavrov, there was an "unconstitutional coup" in Ukraine.
He also stated that "now they want to draw the Balkans into this game, putting them in a position to choose: either you are with the West or you are with Russia."
In addition, Lavrov said that the Eastern Partnership program was being implemented by the European Union on the basis of an ultimatum - "either with Russia or with Europe."
He also accused the EU of demanding that any candidate state join the common foreign defense policy of the European Union. At the same time, he described Montenegro's recent accession to NATO as "absolutely artificial and useless."
The Eastern Partnership is a joint program initiative aimed at deepening and strengthening relations between the European Union and its six eastern neighbors: Armenia, Azerbaijan, Belarus, Georgia, Moldova, and Ukraine.
op