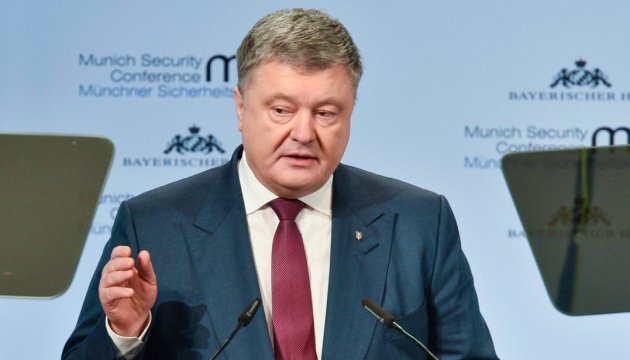 President urges not to recognize Russian presidential election in occupied Crimea
President of Ukraine Petro Poroshenko has called on the international community not to recognize the presidential election of Russia in annexed Crimea and not to restore Russian credentials in the PACE.
Poroshenko said this while speaking at the Munich Security Conference, the press service of the Head of State reported.
"Our response [to Russian aggression] should be "no" - "no" to recognition of Russian presidential election in occupied Crimea, "no" to resuming Russian credentials in the Parliamentary Assembly of the Council of Europe, "no" to conciliatory visits to Moscow seeking economic gain for your own benefit, "no" to Nord Stream 2, which is absolutely not about economic interests, but about Russian political and energy expansion," the President said.
"My message to you is that it is in our joint interest to resist Russia's attempts to break our unity and ruin our democracies. To prove that blackmail and aggression are finished in Europe and that Europe is a continent of peace, stability and cooperation. Universal values are to be respected by all," the Head of State stressed.