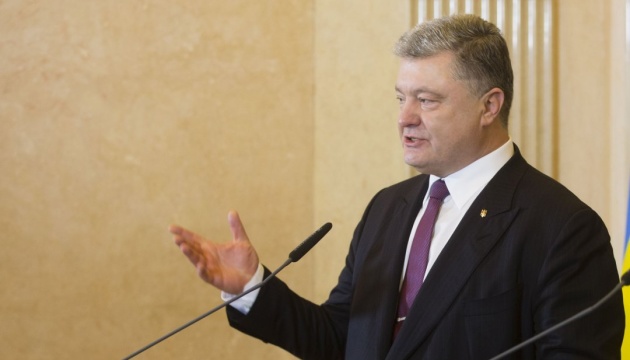 Poroshenko urges Putin to stop killing people
Russian leader Vladimir Putin must withdraw his troops from eastern Ukraine, stop violating international law and killing people.
President of Ukraine Petro Poroshenko said this in an interview with the Profil Austrian media outlet.
"There is no conflict in Ukraine. We are experiencing aggression!" the Ukrainian President said, stressing that the aggressor is the Russian Federation.
He addressed the president of Russia: "Please, Mr. Putin, stop killing people!"
According to Poroshenko, Ukrainians wait for Russia to do the only one thing: ​​to withdraw troops, tanks, artillery, and multiple launch rocket systems. As he stressed, the reintegration will start immediately afterwards, using political and diplomatic methods, as stipulated in the law on the reintegration of Donbas.
The Head of State stressed that eastern Ukraine is not a lost territory or a "separatist territory", but an occupied region where the Russian-controlled puppets rule and where the humanitarian disaster plagues. Moscow does not let humanitarian supplies from other parts of Ukraine and from international organizations and donors enter Donbas, the Ukrainian leader said.
Poroshenko called himself "the President of peace," whose presidency is based on a ceasefire. "I will make every effort to restore peace in my country," he assured, adding he is proud that more than 70% of Ukrainians want a peaceful settlement of the situation.
ol