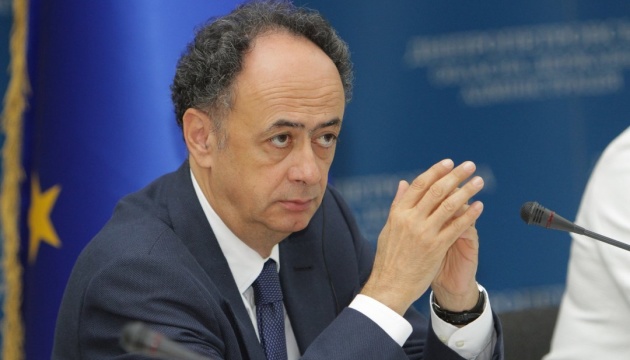 Mingarelli on association with EU: Many important bills lie in Parliament without movement
The European Union is ready to assist Ukraine in conducting reforms, but the responsibility for the rapid and full implementation of the EU-Ukraine Association Agreement rests with the Ukrainian authorities.
Head of the EU Delegation to Ukraine Hugues Mingarelli writes this in the article for the Yevropeiska Pravda online Ukrainian newspaper.
"As the European Union, we are ready to help you solve and overcome the complicated tasks and challenges entailed by the reforms, including those provided for in the Association Agreement. However, Ukrainians, especially the Ukrainian authorities, must remember that the process of transformation depends entirely on them," Mingarelli said.
He added that the EU's partnership with Ukraine is not a relationship between the donor and the recipient, but the relationship based on the equivalent contribution and aspiration of both sides.
"The European Union needs to see reforms to support them," the diplomat emphasized.
Mingarelli noted that there can be no justification for delaying the implementation of the EU-Ukraine Association Agreement: it must be implemented rapidly and to the full extent, and responsibility for this rests with the Ukrainian authorities, especially the lawmakers elected to represent the Ukrainian people and make decisions on their behalf.
The EU Ambassador noted that, having started the first session of 2018, the Verkhovna Rada holds the keys to the adoption of important legislation.
"The constructive and effective dialogue between the Parliament and other key players, in particular the Government and the President, is more crucial than ever... Moreover, legislative objectives and obligations under the Association Agreement deserve more focused work on legislative initiatives," Mingarelli is convinced.
At the same time, he noted that, unfortunately, now many important draft laws remain in the Verkhovna Rada without movement, and at the same time the bills, which contradict or even harm the Association Agreement, particularly the bill "Buy Ukrainian, pay Ukrainians!", are registered.
If such legislative initiatives are not revised, this could lead to the loss of Ukraine's international reputation and the violation of Ukraine's obligations in relations with the EU, the diplomat warned.
The EU Ambassador also noted that the approaches and views may be different, as it is characteristic of a democratic society, but the country's reformers must stay united when it comes to drastic transformations.
ol