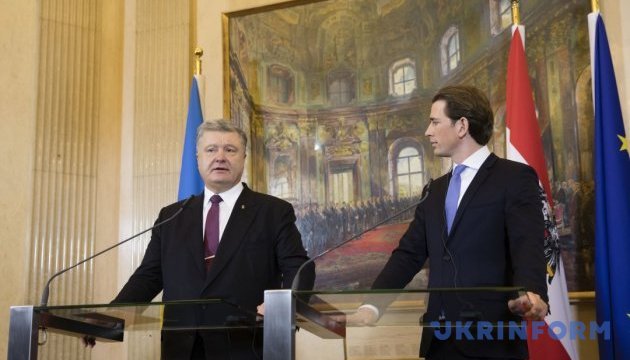 Austria guarantees necessary support to Ukraine - Poroshenko
Ukrainian President Petro Poroshenko has said after a meeting with Austrian Chancellor Sebastian Kurz that he is not concerned about the pro-Russian rhetoric of the Austrian Freedom Party, which is part of a government coalition with conservatives.
Poroshenko stated this in an interview with Austrian magazine Profil.
"Sebastian explained to me the government program, in which the necessary support is guaranteed to Ukraine," the magazine quotes the Ukrainian leader as saying, adding that the Ukrainian president is not worried about pro-Russian moods in the Freedom Party.
Poroshenko sees sanctions imposed by the EU against Russia as "motivation for Russia to fully implement the Minsk agreements." At the same time, he is absolutely convinced that Russian President Vladimir Putin does not know what to do with Donbas. "Putin just has to admit that this is Ukrainian territory and to respect international law. Mr. Putin, please stop killing people in Ukraine, Syria and other regions of the world," Poroshenko said, addressing the Russian leader.
Poroshenko also answered questions from Austrian journalists about an independent anti-corruption court, the creation of which is required by Western partners, assuring that this will happen this year. "Corruption has always been and remains the biggest problem in Ukraine," he said, adding that he wants to work with Western intelligence services in order to return to Ukraine the money illegally taken abroad by oligarchs, politicians and senior officials.
Poroshenko also said that Ukraine's joining the EU and NATO remains a priority. "Do you know why Austria does not have to be a member of NATO? That's because you do not have such a neighbor as Russia. We got to know Russia as an aggressor. NATO is the only effective mechanism for collective security," he said.
The Austrian Freedom Party entered the coalition government on the rights of a junior partner following last year's parliamentary elections in the republic. Freedom Party leader Heinz-Christian Strache has repeatedly called for the lifting of sanctions against Russia and even stated that "Crimea is really part of Russia, and this must be accepted." However, after joining the post of vice chancellor of Austria, he somewhat restrained his pro-Russian rhetoric.
op