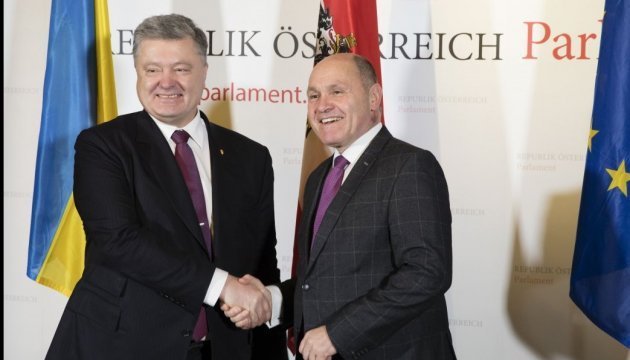 Poroshenko, Sobotka discuss strengthening of Ukrainian-Austrian inter-parliamentary dialogue
Ukrainian President Petro Poroshenko and President of the Austrian National Council Wolfgang Sobotka have noted the importance of strengthening the inter-parliamentary dialogue between the two countries, the press service of the head of state has reported.
"Petro Poroshenko expressed hope for the rapid formation of a group of friendship with Ukraine at the Austrian National Council, Wolfgang Sobotka noted the reforms that are being conducted by the Ukrainian authorities," the press service said.
Poroshenko also briefed Sobotka on the situation in Donbas, noting Austria's solidarity in supporting Ukrainian efforts to counter Russian aggression. He also expressed gratitude for helping overcome the humanitarian consequences of this aggression.
According to the report, the interlocutors agreed on the importance of imposing sanctions against Russia.
Poroshenko also called on the Austrian parliament to recognize the Holodomor of 1932-1933 as genocide of the Ukrainian people in Ukraine.
The president invited Sobotka to visit Ukraine.