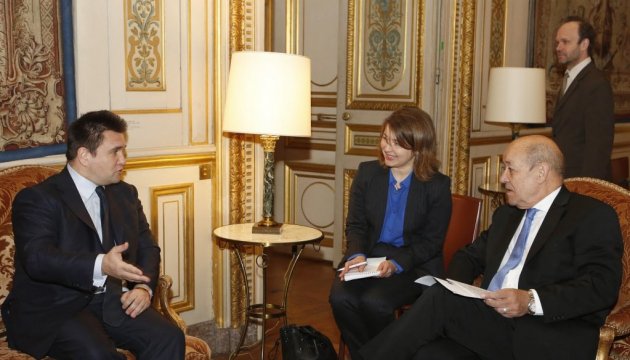 Klimkin meets French politicians, stresses importance of exerting pressure on Russia
Ukrainian Foreign Minister Pavlo Klimkin has met with French politicians and stressed the importance of exerting pressure on Russia in order to restore Ukraine's sovereignty and territorial integrity, the press service of the Ukrainian Foreign Ministry has reported, following Klimkin's visit to France.
"At a meeting with Chairwoman of the Committee on Foreign Affairs of the French National Assembly Marielle de Sarnez, Minister Pavlo Klimkin briefed the interlocutor on the security situation in Ukraine and emphasized the importance of maintaining a clear position of the international community and exerting further pressure on Russia to restore Ukraine's sovereignty and territorial integrity," reads the report.
According to the Foreign Ministry, during a conversation with Chairman of the European Affairs Committee of the French Senate Jean Bizet, the Ukrainian minister informed the French senator in detail about the state of implementation of systemic reforms in Ukraine, in particular, outlining the main tasks of the state for the near future.
Klimkin drew attention to the situation in occupied Crimea and urged French senators to prevent any attempts to legalize occupation of the peninsula.
Bizet said that the French Senate was closely monitoring the situation in Ukraine and upheld an official position by Paris in support of the sovereignty and territorial integrity of Ukraine within its internationally recognized borders.
He also noted that French senators would continue to critically regard any attempts by individual French politicians to visit Crimea in violation of the Ukrainian legislation and international sanctions.
op