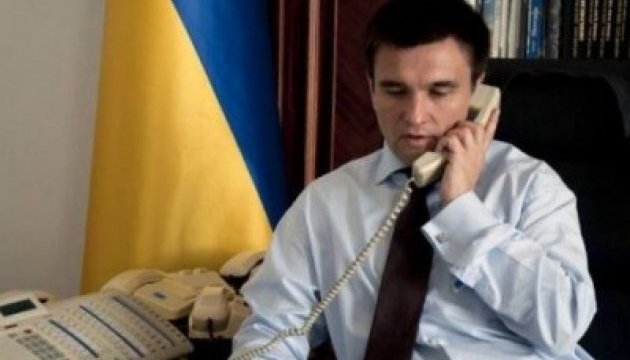 Russia does not want to see UN peacekeepers in Donbas - Klimkin
Russia does not at all seek to settle the conflict in Donbas, does not want to see international peacekeepers there and does everything to delay the time, Ukrainian Foreign Minister Pavlo Klimkin has said.
He stated this in an interview with German regional daily newspaper Rheinische Post.
"Moscow is not interested in resolving the conflict... Russia is just trying to win time and in fact does not want to seriously make the work of a [peacekeeping] mission possible in the entire military zone," the minister said.
Klimkin said that Russia's reluctance to make concrete steps hampers the holding of talks on a peacekeeping force at the UN Security Council.
He also reiterated that Russia's proposal to include in the process the so-called representatives of occupied areas in Donbas was completely unacceptable. "This is not only our position, but also the position of our partners in the West and in the United Nations," the diplomat said.
Klimkin also emphasized the importance of the unity of positions of Ukraine and Western partners in the Normandy format regarding further joint steps in the implementation of the Minsk agreements and noted Russia's reluctance to take these steps.
Klimkin also responded to criticism about the supply of U.S. weapons to the Ukrainian army, assuring that Ukraine has full sovereign right to defense in the event of an attack on its territory, "and future supplies of modern defensive equipment from the United States will serve exclusively to contain a new major Russian attack, as this happened in 2014 and 2015."
Klimkin said earlier that he would meet with his colleagues in the Normandy format on the sidelines of the Munich Security Conference, which opens on February 16.
op