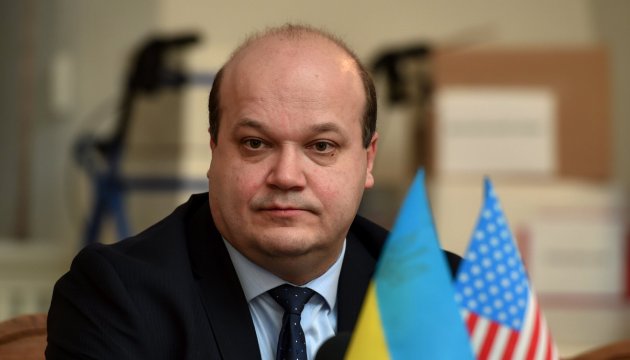 U.S. to impose new sanctions until aggressor leaves Ukraine - ambassador
The United States will impose new sanctions against Russia until it withdraws its military forces from occupied Donbas and restores Ukraine's territorial integrity and sovereignty, Ukraine's Ambassador to the United States Valeriy Chaly has said.
"We welcome the 'Kremlin Report' - a consolidated move by the legislative branch, the Congress, and the executive branch, the administration of U.S. President Donald Trump, on the implementation of sanctions. The explanation from the U.S. Department of the Treasury and the U.S. Department of State clearly states that the Countering America's Adversaries Through Sanctions Act, which mentions Russia, was approved because of Russia's aggression against Ukraine and annexation of Crimea, therefore, there will obviously be further steps," he said live on the 112 Ukraine television channel on Wednesday, January 31.
According to the ambassador, further specific sanctions will be imposed against persons both from the mentioned list and from additional ones.
The diplomat noted that the approach would be changed until Russia withdraws its troops from Ukrainian territory, returns captives and detainees, closes the border with the help of an international mission - that is "there will be a return to a situation when the sovereignty and territorial integrity of Ukraine is restored."
"Otherwise, not only sanctions, but also all measures will exert pressure on Russia," he said.
Earlier, it was reported that on January 31, the U.S. Department of the Treasury present the so-called "Kremlin Report" - a list of 210 persons close to Russian President Vladimir Putin, who could be affected by sanctions.
They include all members of the Russian government, employees of the presidential administration, "other high-ranking political leaders" and oligarchs.
op