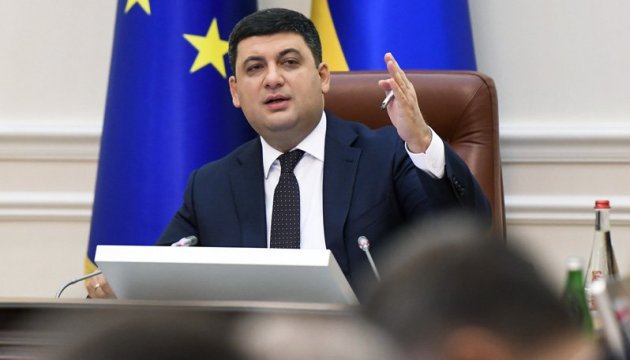 Ukrainian, Estonian prime ministers discuss cooperation in trade, economic and financial fields
Prime Minister of Ukraine Volodymyr Groysman held a telephone conversation with Prime Minister of the Republic of Estonia Jüri Ratas, during which they discussed practical measures to deepen cooperation in the trade, economic and financial fields.
This was reported by the Governmental portal.
"The Heads of Governments having commended the high level of bilateral cooperation had in-depth conversation regarding the practical measures to deepen cooperation in the trade, economic and financial fields," the report reads.
Groysman briefed his counterpart about the content of the resolution adopted by the Cabinet of Ministers of Ukraine at the end of December 2017 No. 1045, which approved the list of countries (territories) whose residents make business transactions subject to transfer pricing control. He stressed the decision was aimed to prevent tax evasion and tax-base erosion, in particular, as foreseen by such profile international organizations as the OECD.
The PM notes that the action of the said list applies only to residents of Ukraine who submit a report on controlled transactions to the tax authorities of Ukraine, hence the State Fiscal Service, in accordance with the submitted reports, will determine risky operations subject to additional control by the system of detection of risks, as it is operates all over the world.
The above list is not a list of offshore zones.
Estonia was included in the list as a country in which the retained earnings rate makes up 0%, which can be used by residents of Ukraine for tax base erosion and profit tax avoidance in Ukraine.
The Estonian side was also informed that the NBU had not made any decisions to include Estonia in the list of offshore territories. In order to avoid possible misunderstanding in conducting account management by business entities, on January 24, 2018, the NBU sent a directive letter to Ukrainian banking institutions explaining the lack of legal grounds for applying an in-depth analysis of Estonian companies.
On the results of the conversation, the Prime Ministers agreed to commission finance ministries of their countries, together with the tax authorities, to engage in cooperation and, if necessary, to hold consultations, in which to resolve possible misunderstandings.