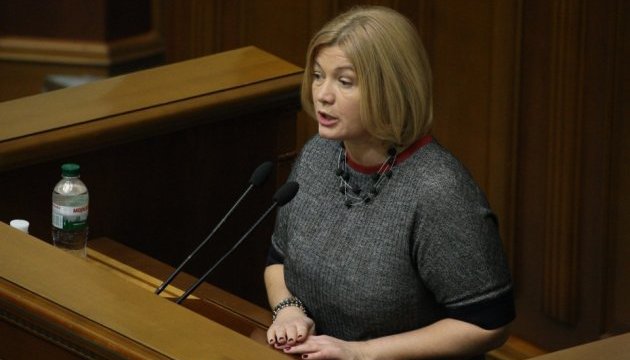 Gerashchenko outraged by Jagland's statement on Russia's return to CoE
Verkhovna Rada First Deputy Head Iryna Gerashchenko, who represents Ukraine in the humanitarian subgroup of the Trilateral Contact Group on the situation in Donbas, is outraged by a statement by Secretary General of the Council of Europe Thorbjorn Jagland.
She wrote this on her Facebook page.
"Secretary General of the Council of Europe Jagland, who was described by Ukrainian experts as the greatest diplomatic disappointment in 2017, went further as usual in his speech to the PACE and said that annexation and occupation could not serve as grounds for sanctions. In his opinion, only a direct violation of Article 4 of the European Convention on Human Rights, such as death penalty, torture, forced and bonded labor [could be such grounds]. Are news from Ukraine not coming to Strasbourg?" Gerashchenko said.
She recalled cases of a public death penalty in Russian-occupied territories in Donbas, the shooting and torture of Ukrainian hostages, violence and slave labor, as well as "parades of prisoners."
"It's so shameful that European colleagues pretend not to know this. However, our mission - no matter how unpleasant it is for them to hear this - is to remind of their loyalty to torture if they support it," Gerashchenko said.
She stated that it would be a very difficult PACE session and a difficult year, because, according to her, many Europeans tend to close their eyes to obvious things, forgetting about key values - the right to life.
"However, we, the Ukrainian delegation, are not going to go with the stream and allow them to forget about Crimea and Donbas and talk about these subjects. We will not allow them to close their eyes to violence, rape, torture, bullying, illegal detention, torture, disrespect for territorial integrity and sovereignty, a flagrant violation of human rights - all that became normal in the territories occupied by Russia," Gerashchenko said.
As reported, Jagland said in his speech to the PACE on January 22 that the time had come to harmonize relations within the Council of Europe and return Russia to the organization.
Jagland believes that Russia's return will contribute to the harmonization of the work of the Council of Europe and should be realized before the 70th anniversary of the creation of the organization (2019).
PACE stripped the Russian delegation of voting rights in 2014 because of Russia's aggression against Ukraine.
op