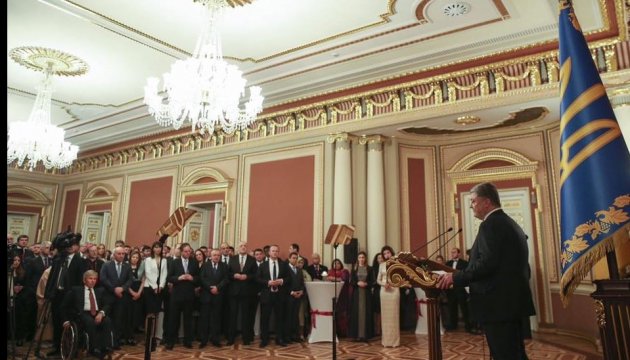 Poroshenko promises to work on return of hostages from ORDLO and political prisoners from Russia
President Petro Poroshenko has assured that this year Ukraine will work on the soonest return of hostages from so-called "DPR / LPR", as well as Ukrainian political prisoners kept in Russian prisons.
He said this at a meeting with the heads of diplomatic missions of foreign states and international organizations accredited in Ukraine in Kyiv on January 16, the head of state's press service reported.
"This year, we will work to ensure that the rest of Ukrainian hostages from occupied Donbas and Crimea and political prisoners detained in Russia also return to their homes in Ukraine as soon as possible," Poroshenko said.
As reported, the large-scale liberation of hostages took place in Donbas on December 27. A total of 73 Ukrainians returned from the occupied territory, namely "cyborgs" and other Ukrainian fighters, public activists and volunteers as well as scientist and historian Ihor Kozlovsky.
ish