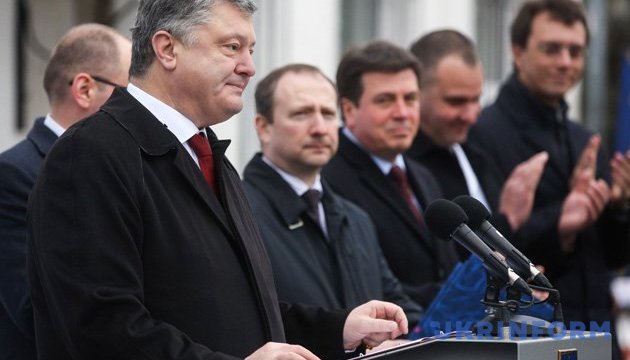 President wants law on Anti-Corruption Court, cancellation of declarations for activists
Ukrainian President Petro Poroshenko insists on the adoption by parliament of laws on the Anti-Corruption Court, the cancellation of the requirement of electronic income declaration by public activists and decentralization in the field of land relations.
The president's representative in the Verkhovna Rada, Iryna Lutsenko, said this at a meeting of the parliament's conciliatory council on Monday, an Ukrinform correspondent reports.
"The president insists and asks the parliament to support the president's position regarding bills Nos. 6674 and 6675 on electronic declaration, which exclude the obligation to submit e-declarations for public activists, individuals who receive funds and property as part of the implementation of technical and other assistance programs in Ukraine," Lutsenko said.
According to her, the president also asks the Verkhovna Rada to include in the agenda in the near future and "thoroughly" consider the law on the Anti-Corruption Court.
In addition, the head of state called on parliament to adopt bill No. 7363 concerning the transfer of certain powers to the communities in the field of land relations, Lutsenko added.
On July 8, 2017, Poroshenko tabled in the Verkhovna Rada draft laws to abolish the e-declaration of anti-corruption NGOs. In particular, these are draft laws No. 6674 "On amendments to certain legislative acts on ensuring the openness to the public of information on the financing of the activities of public associations and the use of international technical assistance" and No. 6675 on the introduction of amendments to the Tax Code.
On December 22, 2017, the head of state submitted bill No. 7441 on amendments to the law on the judicial system and the status of judges in connection with the adoption of the law on the High Anti-Corruption Court.
op