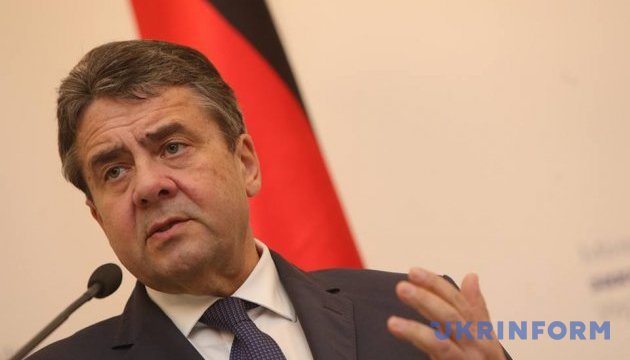 Germany to persuade Russia to return its officers to JCCC - Gabriel
Germany will try to persuade the Russian government to return Russian officers to the Joint Center for Control and Coordination (JCCC).
German Foreign Minister Sigmar Gabriel said this at a briefing in Kyiv on Wednesday, January 3, an Ukrinform correspondent reports.
"It is very important to convince the Russian government that Russia should again take part in the joint commission [JCCC], and it is important that Ukraine have direct contact with Russia in this regard. We want to convince Russia and do everything together with Ukraine so that the withdrawal of Russian officers was canceled and they could return to this commission," Gabriel said.
He drew attention to the fact that, on the one hand, Russia proposes deploying a UN peacekeeping force to Donbas, but, on the other hand, it recalls its officers from the JCCC. According to the minister, these are "symbols" that do not fit each other.
When asked about the possible replacement of Russian officers in the JCCC with representatives of other countries, in particular, Germany, Gabriel noted that the purpose of the commission is to provide a direct link between Ukraine and Russia and not to avoid conflicts, but to stop the emerging ones.
"The replacement of Russian officers in the commission will not bring any advantage. Therefore, our goal is to return Russian officers to this group," Gabriel said, adding that Germany's representatives are participating in the OSCE Special Monitoring Mission to Ukraine.
As reported, on December 18, the Russian Foreign Ministry said that Russian representatives of the JCCC would leave Ukraine on December 19 in connection with the "tense moral and psychological situation."
The Ukrainian Foreign Ministry described Russia's withdrawal from the JCCC as a provocation that greatly undermines the Minsk agreements.
op