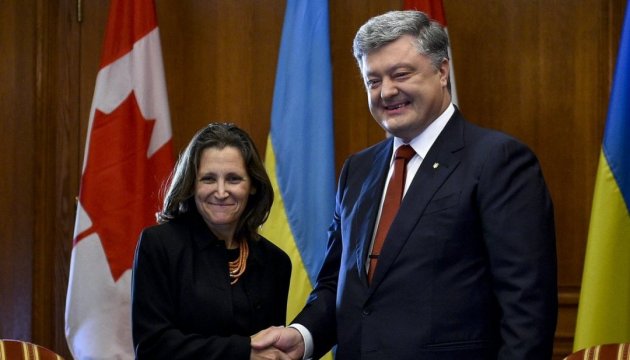 Poroshenko, Freeland discuss Russia's intentions to undermine Minsk process
Ukrainian President Petro Poroshenko at a meeting with Canadian Foreign Minister Chrystia Freeland thanked Canada for support in reform and the settlement of the situation in Donbas, the press service of the head of state has reported.
"The parties discussed the dangerous development of the situation in Donbas provoked by violation of the ceasefire regime by pro-Russian militants, including cases of shelling of civilian objects. Particular attention was paid to Russia's intentions to undermine the implementation of the Minsk Agreements, in particular, by leaving the JCCC," reads the report.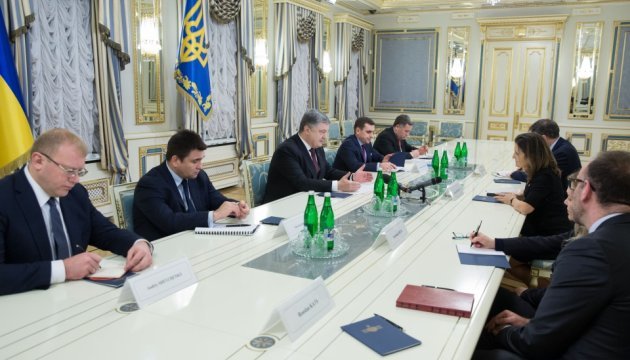 In order to facilitate a peaceful settlement, further steps were coordinated to advance the initiative of deploying a UN peacekeeping mission throughout the occupied Donbas area, including the uncontrolled part of the Ukrainian-Russian state border. Freeland also informed Poroshenko about close coordination of approaches with the United States, in particular during a meeting with Secretary of State Rex Tillerson on December 19.
It was also agreed to continue joint efforts to free Ukrainian hostages in Donbas and political prisoners illegally detained in Russia and the occupied Crimea.
The head of state noted Ottawa's important role in advancing the Crimean resolution that was approved by the UN General Assembly. Poroshenko called on Canada to actively join the formation of a group of friends on de-occupation of Crimea.
The president also noted that Canada's brightest evidence of Canada's assistance was the recent decision of Ottawa to include Ukraine in the list of countries that are allowed to supply weapons.
The president of Ukraine congratulated Canada on its forthcoming responsible mission, chairing the G7, and expressed confidence that the issue of Ukraine would be among the priorities on the agenda of this esteemed forum.
Poroshenko also noted the symbolism of the visit of the Canadian minister on the eve of the 100th anniversary of the diplomatic service of Ukraine.
op