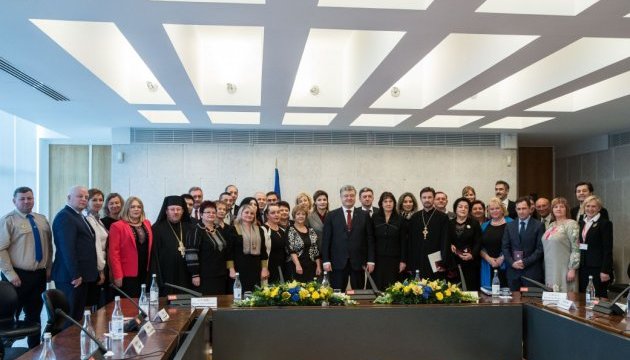 President Poroshenko met with Ukrainian community in Portugal
President Petro Poroshenko in Lisbon met with the Ukrainian community in Portugal, the president's press service reported on Monday evening.
"The Portuguese President, Prime Minister, Government honor the Ukrainian community," Petro Poroshenko said, noting that he heard only good words about the Ukrainian community from the abovementioned persons.
Poroshenko stressed that Portugal had never so decisively supported Ukrainian sovereignty, territorial integrity and independence before.
He noted that Portugal was one of the initiators of sanctions against Russia for the annexation of Crimea, aggression in eastern Ukraine and the non-implementation of the Minsk agreements. "Just like throughout Europe, this has become possible due to your position. And this is another thing for which I would like to thank you," Poroshenko emphasized.
The President also shared his impressions from the joint prayer of the entire Ukrainian delegation for peace in the Fátima Pilgrimage Center.