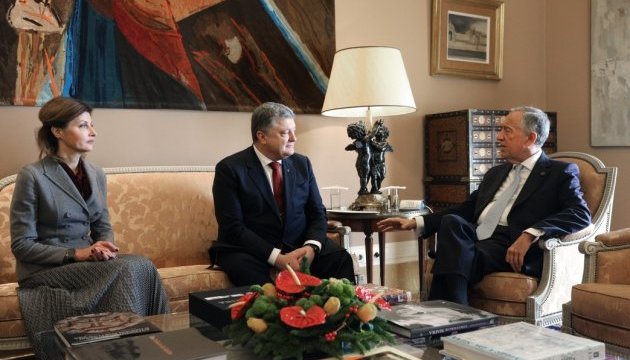 Poroshenko meets with Portuguese president in Lisbon
Ukrainian President Petro Poroshenko is meeting with his Portuguese counterpart Marcelo Rebelo de Sousa in Lisbon.
The meeting is taking place as part of the president's official visit to Portugal, the press service of the head of state reported.
"President Petro Poroshenko and his wife, Maryna Poroshenko, arrived at the Belem Palace, where they were met by President of Portugal Marcelo Rebelo de Sousa. An official meeting ceremony took place, and the anthems of Ukraine and Portugal were played. The heads of state inspected the rank of soldiers of the Guard of Honor. After that, the face-to-face meeting between the presidents of Ukraine and Portugal started," reads the report.
Negotiations are also to be held in expanded mode.
Following the talks, the presidents will deliver press statements.
op