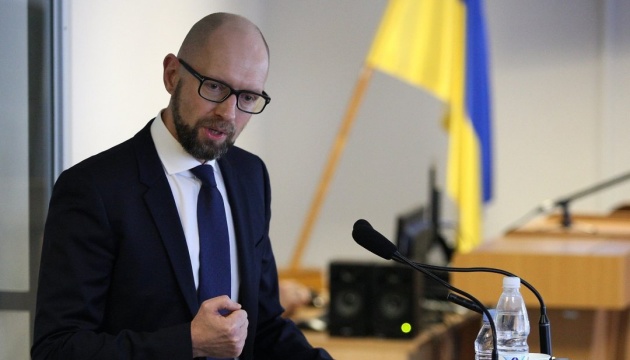 Yanukovych signed 50 agreements in favor of Russia's interests - Yatseniuk
Former Ukrainian President Viktor Yanukovych signed 50 agreements in favor of Russia from 2010 to 2014, former Prime Minister Arseniy Yatseniuk has said.
He stated during his interrogation in Kyiv's Obolonsky District Court in the Yanukovych treason case, an Ukrinform correspondent reports.
"Between 2010 and 2014, more than 50 bilateral documents were signed between Ukraine and the Russian Federation. As a rule, these documents were aimed at ensuring that Russia could have the greatest possible economic and security impact on the Ukrainian state," he said.
Yatseniuk added that the agreements mainly concerned cooperation between Ukraine and Russia in the field of gas, nuclear energy and security.
According to the former prime minister, the adoption of Kharkiv agreements between Ukraine and Russia on the extension of the period of stay of the Russian Black Sea Fleet on Ukrainian territory until 2042 became a kind of legitimization of the presence of Russian troops and created preconditions for Russian aggression in early 2014.
Yatsenyuk said during his speech in the court that the period of Yanukovych's presidency was characterized by "the incredible penetration of Russian special services into Ukrainian special services." In particular, the leaders of the SBU and the Defense Ministry were Russian citizens under Yanukovych, he said.
When asked by a state prosecutor whether there were any threats to the life and health of Yanukovych in February-March 2014, Yatseniuk said that there was no information of this kind.
"At that time, Yanukovych's state security reached several hundred people, so there was no information on the threat to President Yanukovych's life and health. This is further confirmed by the fact that Yanukovych personally rejected state security. If there was a threat, he would not have rejected security," Yatseniuk said.
op