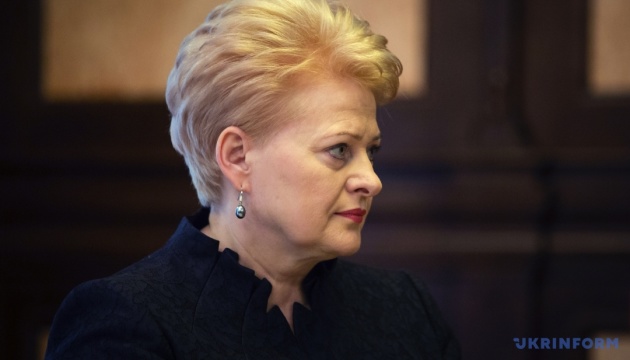 Ukrainian government should ensure NABU's independence - Grybauskaite
The Ukrainian authorities should ensure the independence of the National Anti-Corruption Bureau of Ukraine (NABU) and not interfere in its work.
Lithuanian President Dalia Grybauskaite said this during a joint meeting with Ukrainian President Petro Poroshenko in Vilnius on Friday, an Ukrinform correspondent reports.
"Ukraine needs to ensure the independence of the NABU in such a way that politicians cannot influence the NABU's work. At the same time, the bureau should not be directly involved in political activity," she said.
According to her, Lithuania also supports the requirement to create an anti-corruption court in Ukraine.
Grybauskaite said that such practice is not usual for other European countries. "At the same time, such a court should become a transition [institution] until the Ukrainian judicial system can effectively fight corruption," she added.
Grybauskaite also drew attention to the need to reform the Ukrainian prosecutor's office, especially in terms of fighting corruption.
According to Ukrinform, Poroshenko is on a working visit to Lithuania on December 8 to participate in the tenth meeting of the Council of Presidents of Ukraine and Lithuania.