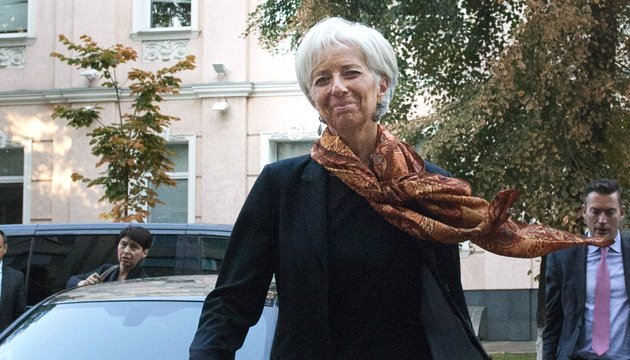 Christine Lagarde: IMF stands ready to continue to support Ukraine
Christine Lagarde, Managing Director of the International Monetary Fund (IMF) has stated she had "constructive and open" discussion with President of Ukraine Petro Poroshenko on Ukraine's efforts to fight corruption.
This is said in the official statement of the IMF, an Ukrinform correspondent reports.
"I had a constructive and open discussion with President Poroshenko on Ukraine's efforts to fight corruption, which is expected by the Ukrainian society and is critical to improve transparency and accountability and create the conditions for sustainable growth," the IMF Managing Director stressed.
Lagarde noted that investigating and promptly adjudicating incidences of corruption was critical.
"In this regard, we agreed on the need to maintain the independence and enhance the operational capacity of the National Anti-Corruption Bureau and the Special Anti-Corruption Prosecutor's Office," she stated.
Christine Lagarde also emphasized that she supported the President's agenda for the submission of a draft law to Parliament in the coming days consistent with the Venice Commission's recommendations and past agreements under the IMF-supported program.
"It will be important that all members of Parliament unite behind the bill and approve it as a matter of priority," the IMF Managing Director said.
She also assured President Poroshenko that "the IMF stands ready to continue to support Ukraine, along with other international partners, in the fight against corruption and encouraged the authorities to accelerate the implementation of reforms that are necessary to further improve the prospects of Ukraine's economy and its people."
ol