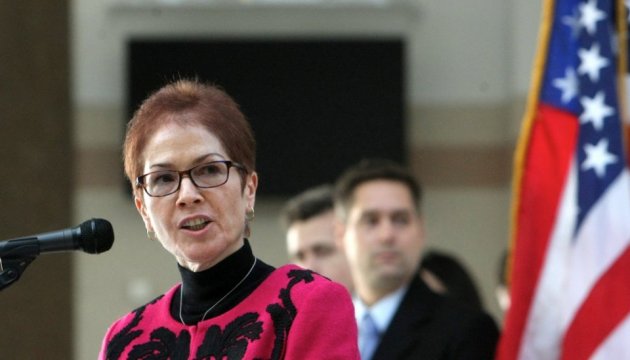 Yovanovitch says Washington will continue to support NABU, SAPO despite scandal
Washington will continue to support the National Anti-Corruption Bureau of Ukraine (NABU) and the Specialized Anti-Corruption Prosecutor's Office (SAPO), U.S. Ambassador to Ukraine Marie Yovanovitch has said.
"I certainly agree that the fight against corruption here in Ukraine is the most important challenge facing the Ukrainian people and the Ukrainian government. And I think that was recognized in 2014, and, as a result, pretty much everybody - starting with the president, the prime minister, the Rada - so many people supported the establishment of new independent professional anti-corruption institutions. We were proud to be able to provide support to those organizations and continue to do so today," she said in an interview with LIGA.net.
She believes that there are a lot of people in these bodies who can work well together, and a sign of this is about 100 cases that anti-corruption authorities have investigated and that have practically stalled at the judicial level.
The ambassador also stressed the need to establish an independent anti-corruption court.
"We hope very much that there will be legislation enacted in December with regard to establishing a new anti-corruption court. That's what, I think, President Poroshenko has said, as well as [influential politicians] in the Rada… The Venice Commission has provided a very solid roadmap forward, and we hope that is the path that is selected," Yovanovitch added.
As Ukrinform reported, Prosecutor General Yuriy Lutsenko criticized the work of NABU agents. The bureau believes that his arguments do not correspond to reality.
Earlier, a conflict broke out between the NABU, the Prosecutor General's Office (PGO) and the Ukrainian Security Service (SBU). The bureau's undercover agent was detained by the security services. The PGO suspects him of provoking a bribe. The NABU accused the PGO and the SBU of disrupting a secret operation on detecting corruption in the State Migration Service.
op