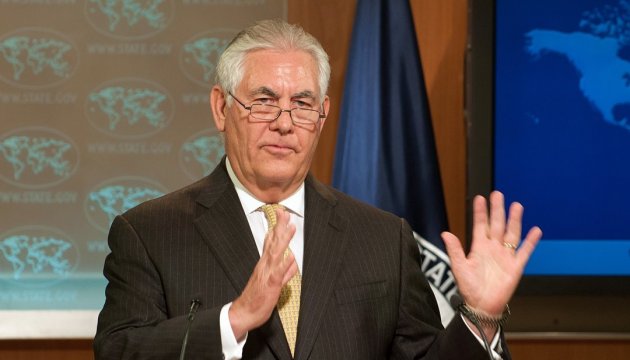 U.S. will accept only complete restoration of Ukraine's sovereignty - Tillerson
Washington will not accept any resolution of the Russian-Ukrainian conflict, which will not lead to a complete restoration of Ukraine's sovereignty and integrity.
U.S. Secretary of State Rex Tillerson said this in Washington on Tuesday, while speaking at the Wilson Center on the topic "The U.S. And Europe: Strengthening Western Alliances," an Ukrinform correspondent reports.
"The United States recognizes that the war in Ukraine - in which people are still dying every day - must come to an end. We have repeatedly urged Russia to begin the path to peace by honoring its commitments under the Minsk agreements. Any resolution of the war that does not entail a fully independent, sovereign, and territorially whole Ukraine is unacceptable," he said.
Tillerson said that the United States and Europe "have stood shoulder-to-shoulder since 2014 in confronting this Russian aggression with a coordinated sanctions policy."
He said that transatlantic unity would not stand for Russia's flagrant violation of international law. "We hope Russia will take steps to restore Ukraine's full sovereignty and territorial integrity and fully implement its Minsk commitments, allowing us to begin then the process of restoring normal relations," Tillerson said.
At the same time, he said that the U.S. sanctions policy against Russia remains unchanged.
"Let me be clear, Minsk-related sanctions will remain in place until Russia reverses the actions that triggered them," the U.S. Secretary of State said.
op