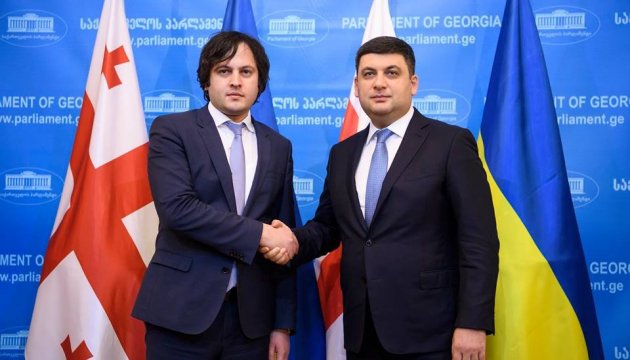 Groysman, Kobakhidze discuss foundation for deepening relations
Ukraine and Georgia, which have a long history of friendship and partnership, should use all possible platforms to protect common interests.
Georgian Parliament Speaker Irakli Kobakhidze said this at a meeting with Ukrainian Prime Minister Volodymyr Groysman on November 27.
Kobakhidze said at the meeting that Tbilisi supports the territorial integrity of Ukraine, condemns the annexation of Crimea and aggression against Ukraine. This geopolitical aspect is common to both countries.
"Our common pain is the occupation of territories. But our course for European integration and rapprochement with NATO are also common. And today, I believe, we must use all the platforms, above all international ones, to protect our common interests," Kobakhidze said.
Groysman agreed with Kobakhidze and added that the two countries' relations were strategic and this is "an essential foundation for deepening relations in the future."
Groysman said that on the first day of his visit he had already held a series of high-level meetings, in particular with the Georgian president and the Georgian prime minister, which will result in the deepening of work in specific directions. The issue concerns cooperation in the political sphere, the introduction of reforms and the exchange of experience, as well as economic relations.
"We set the task of doubling the trade turnover to one billion dollars," Groysman said.
He also informed the Georgian side about the course of reforms in Ukraine and the government's plans for 2018. "We have discovered opportunities for changes, and we will continue them," Groysman said.
op