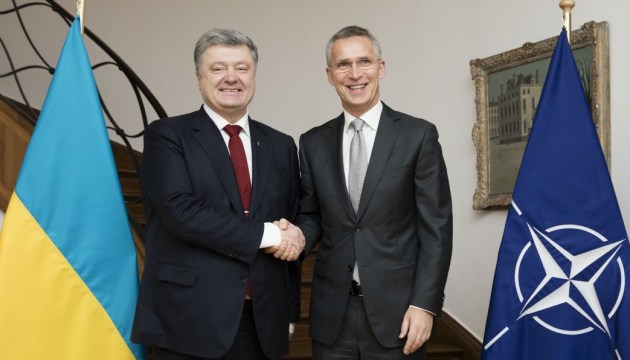 Poroshenko thanks Stoltenberg for 'NATO's open doors'
Ukrainian President Petro Poroshenko has met with NATO Secretary General Jens Stoltenberg in Brussels, the press service of the head of state has reported.
"The president expressed his gratitude to NATO for the continued support of the sovereignty and territorial integrity of Ukraine and assistance in counteracting Russian aggression. The head of state noted that Ukraine continues to implement the course for Euro-Atlantic integration at the legislative level and consistently reform the security and defense sector in accordance with NATO standards," reads the statement.
It notes that Poroshenko confirmed the Ukrainian side's interest in further deepening cooperation with NATO through the effective implementation of the respective Annual National Programs and the use of the alliance's Comprehensive Assistance Package for Ukraine.
Poroshenko thanked Stoltenberg for a clear position on keeping NATO's doors open for countries that meet the necessary criteria.
Stoltenberg stressed that the North Atlantic Alliance stands by Ukraine and that the partnership is reliable and strong.
op