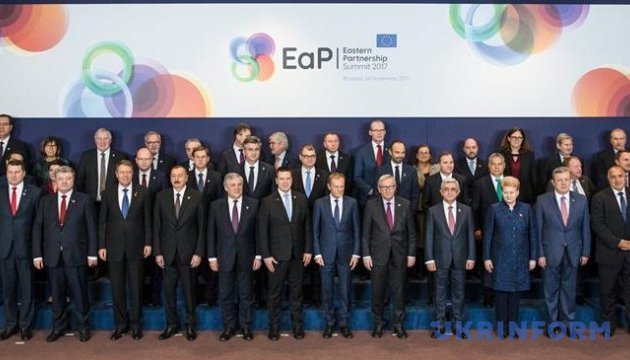 Eastern Partnership summit acknowledges European aspirations of Ukraine
The participants in the Eastern Partnership summit, which took place in Brussels on Friday, November 24, have adopted a joint declaration, which, in particular, expressed concern over violations of the principles of international law in many parts of the region, an Ukrinform correspondent reports.
"The Summit participants remain deeply concerned about the continued violations of principles of international law in many parts of the region. The Summit participants call for renewed efforts to promote the peaceful settlement of unresolved conflicts in the region on the basis of the principles and norms of international law," reads the declaration.
The heads of state and government welcomed efforts and the EU's strengthened role in conflict resolution and confidence building in the framework or in support of existing agreed negotiating formats and processes, including through field presence, when appropriate.
As for the EU membership prospects of Ukraine, Georgia and Moldova, the summit participants "acknowledge the European aspirations and European choice of the partners concerned, as stated in the Association Agreements."
As reported, the Ukrainian side insisted on more ambitious formulations of the summit declaration, in particular regarding the pressure on aggressive Russia and the acknowledgement of Ukraine's EU membership prospects, as stated in Article 49 of the Treaty on European Union.
op