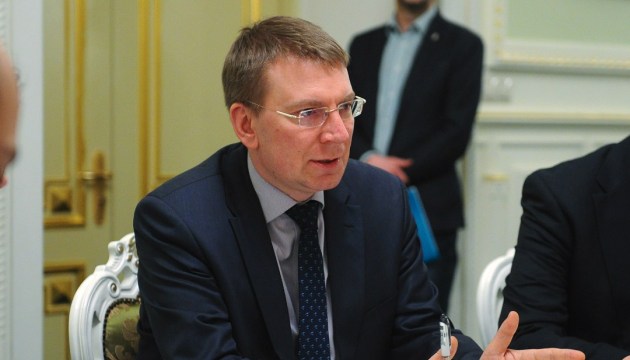 Latvian foreign minister says EaP countries not ready to join EU
There is currently no consensus in the European Union regarding the official acknowledgement of the aspirations of Ukraine, Georgia and Moldova to become future EU members.
Latvian Foreign Minister Edgars Rinkevics said this on the sidelines of the Eastern Partnership summit in Brussels on Friday, an Ukrinform correspondent reports.
"I understand our friends who want to get membership prospects with a concrete date. But no one in the EU, like the eastern partners, is ready to declare today that they are ready to become candidates," the Latvian minister said.
Rinkevics noted that some EU countries would like to speed up the progress of the eastern partners on the right path, but there is no unity among all 28 EU members.
"So, those who expect the acknowledgement of European prospects [at the Eastern Partnership summit] will be disappointed," he said.
At the same time, he said that no one at the geopolitical level could block the future membership of Ukraine, Georgia and Moldova of the European Union, but this was largely dependent on the countries themselves.
op