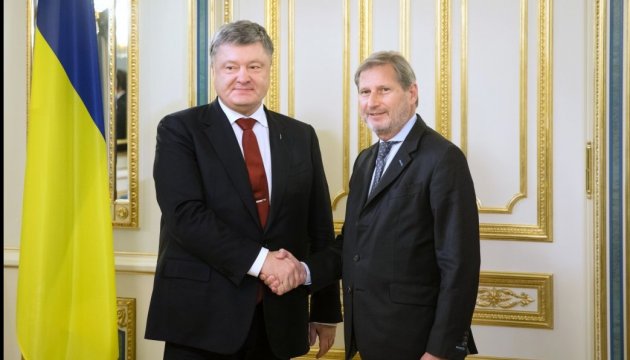 Hahn says EU ready to continue helping Ukraine implement reforms
EU Commissioner for European Neighborhood Policy and Enlargement Negotiations Johannes Hahn has said that the European Union is ready to continue to support changes in Ukraine for its further rapprochement with the EU.
He stated this at a meeting with Ukrainian President Petro Poroshenko on Wednesday, the press service of the head of state reported.
"The EU Commissioner noted the dynamics of reforms in Ukraine in the recent period and confirmed the readiness of the EU to continue to provide comprehensive support for internal transformations aimed at further rapprochement with the European Union," the statement reads.
The sides also exchanged views on preparations for the Eastern Partnership summit to be held in Brussels on November 24, 2017.
In addition, the president informed the EU Commissioner about the security situation in Donbas and drew his attention to a significant deterioration of the human rights situation in the occupied Crimean peninsula.
Poroshenko also thanked the European Union for the continued support of Ukraine's territorial integrity, a sign of which, he said, was the vote in the Third Committee of the UN General Assembly for a draft resolution on the violation of human rights in Crimea.
op