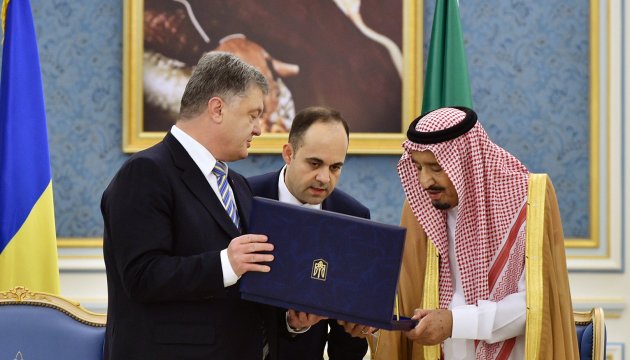 Ukraine, Saudi Arabia to simplify visa regime - Poroshenko
Ukraine and Saudi Arabia have agreed on visa facilitation and the procedure of Hajj (pilgrimage) to holy cities of Islam in the Kingdom of Saudi Arabia.
Ukrainian President Petro Poroshenko stated this in his comment posted on Facebook.
"We reached very important agreements on simplifying the visa regime. I was surprised to find out that today visas to Saudi Arabia are the most expensive for all Ukrainians, and, accordingly, visas to Ukraine are the most expensive for Saudis. We agreed with the King, His Majesty, that we will drastically lower visa fee rates and move towards providing and facilitating people-to-people contacts, facilitating opportunities for businessmen, entrepreneurs, and tourists," he said.
Poroshenko also pointed to religious exchanges and an opportunity for Ukrainian Muslims (up to two million Muslims live in Ukraine) to carry out Hajj to Saudi Arabia.
"We have agreed that we will maximize the simplification of the Hajj procedure. And I do not rule out that, on the Ukrainian side, we will make some initiatives that will help protect the rights of Ukrainian Muslims," Poroshenko said.
op