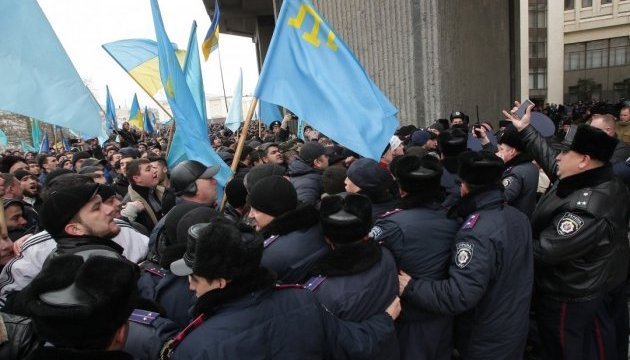 US accuses Russia of campaign of oppression of Crimean Tatars
Russia continues its campaign of oppression and persecution of Crimean Tatars and those citizens who do not agree with the Russian occupation of the Ukrainian peninsula.
Harry Kamian, the Chargé d' Affaires, a.i., to the U.S. Mission to the OSCE said this at the OSCE Permanent Council meeting in Vienna on Thursday, an Ukrinform correspondent reports.
"The restrictions on freedom of expression in Russia-occupied Crimea are appalling. We are concerned by reports that at least 49 Crimean Tatars were arbitrarily detained on October 14 for staging one-person protests in towns all around the Crimean peninsula," the American diplomat said.
He noted that the protesters opposed violent police raids on Crimean Tatar homes in Bakhchisaray. "These detentions are part of an orchestrated campaign of oppression of the Crimean Tatars, and of anyone else who opposes Russia's purported annexation and occupation of the Crimean peninsula," Kamian said.
In this regard, he called upon Russia to end its repressive actions in occupied Crimea and return control of Crimea to Ukraine.
"The United States fully supports Ukraine's sovereignty, independence, and territorial integrity within its internationally-recognized borders. We do not, nor will we ever, recognize Russia's purported annexation of Crimea. And Crimea-related sanctions on Russia will remain in place until Russia returns full control of the peninsula to Ukraine," U.S. Chargé d'Affaires to the U.S. Mission to the OSCE said.
ol