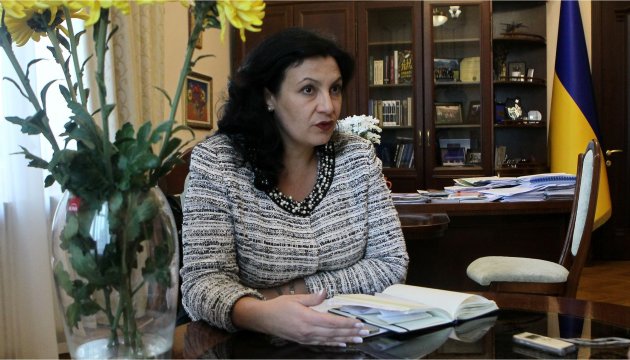 Main accent of PACE 'education' resolution is implementation of Venice Commission's decision – Klympush-Tsintsadze
The main accent of the PACE resolution on the Ukrainian law on education is a recommendation to implement the Venice Commission's decision; therefore, we have to move from emotional discussion to arguments and facts.
Vice Prime Minister of Ukraine for European and Euro-Atlantic Integration Ivanna Klympush-Tsintsadze said this in an interview with Ukrinform.
"I think that the main accent of this resolution [of the PACE] is that Ukraine has to fulfill a decision of the Venice Commission. Therefore, I again insistently propose to move from emotional discussion to arguments and facts and to discuss real things but not post-truth. I believe that if we focus on this the implementation of this resolution will not be painful for Ukraine," she said.
At the same time, the deputy prime minister has reminded that in Europe there are no clear European standards that are accepted by all countries regarding the education language of citizens who belong to national minorities.
"Each state solves this issue in its own way, often at the local level. So the imposition of a single approach on Ukraine, in fact, contradicts the practice of European countries, especially the member states of the Council of Europe and the OSCE. We should focus on arguments and professional clarification - this is probably the conclusion that we should have made, including after the adoption of the PACE resolution," Klympush-Tsintsadze summed up.
As Ukrinform reported, PACE on October 12 adopted a resolution expressing concern over the new Ukrainian law on education.
ish