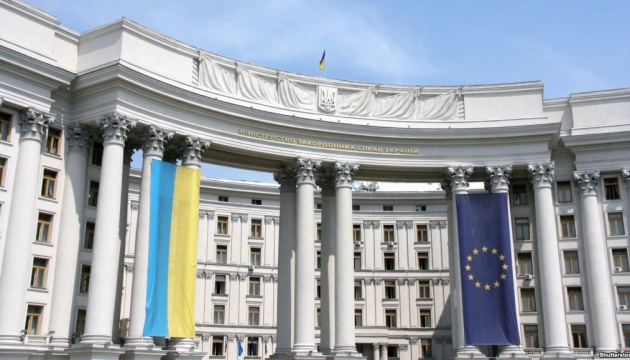 Ukraine surprised by Hungary's statement on revision of Association Agreement
The Ukrainian Foreign Ministry is surprised by a statement made by Hungarian Foreign Minister Peter Szijjarto regarding the revision of the Association Agreement between Ukraine and the EU.
"Ukraine has always seen Hungary as an important partner with which all issues were resolved through dialogue. This also concerns the situation with regard to the new law of Ukraine 'On Education.' Hungary has the right to raise any issue as part of the EU. However, a decision regarding Ukraine cannot be taken without Ukraine, which pays an extremely high price for its place in Europe," the ministry said in a statement on October 10.
The Ukrainian Foreign Ministry recalled that the European future was and remains a common goal for all Ukrainian citizens, including those of Hungarian nationality. It was under the banners of the united Europe that the Revolution of Dignity took place. It is for the European future that Ukraine suffers from Russian aggression.
"We have repeatedly emphasized our openness to substantive negotiations. Despite the proposal of the Ukrainian side on a joint visit to Zakarpattia region by the foreign ministers of the two countries, the Hungarian side decided to make such a visit unilaterally," the ministry said.
However, Ukrainian Foreign Minister Pavlo Klimkin is ready to visit Budapest on October 12, and Ukrainian Education and Science Minister Lilia Hrynevych confirmed her readiness to meet with Hungarian Human Resources Minister Zoltan Balog in Kyiv on October 19.
"We are ready for dialogue at the interstate level, at the level of communities and as part of international organizations. We are waiting for representatives of the Hungarian parliament both in Kyiv and in Zakarpattia, but the discussion should be based on arguments," the report says.
The Foreign Ministry invited European friends and partners to visit Zakarpattia and communicate directly with residents of the region to understand the situation on the spot.
As reported, Szijjarto stated in Uzhgorod on October 9 that the new Ukrainian law on education violated the principles of the Association Agreement between Ukraine and the European Union. On October 16, at a meeting of the foreign ministers of the European Union member states in Luxembourg, he plans to initiate a review of this agreement with Ukraine.
op