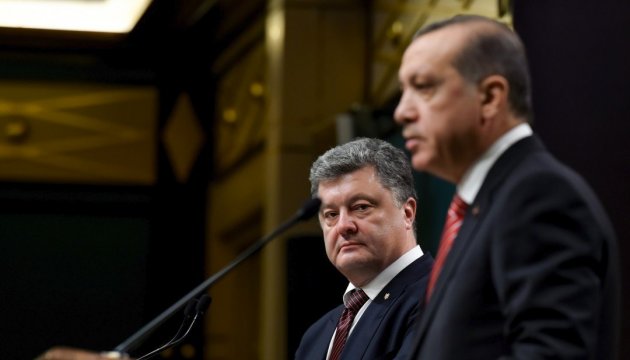 Ukraine, Turkey sign a number of cooperation agreements
Ukrainian President Petro Poroshenko and his Turkish counterpart Recep Tayyip Erdogan have signed a joint statement following the sixth meeting of the High-Level Strategic Council between Ukraine and Turkey, the press service of the Ukrainian president has reported.
"Today's agreements, of course, will help us raise the scope of our cooperation," Poroshenko said at a press conference following the meeting of the High-Level Strategic Council in Kyiv on Monday.
The head of state also noted that the bilateral agreement on investment protection and the changes made to the agreement on avoidance of double taxation would give an additional impetus to bilateral cooperation.
The Ukrainian and Turkish sides also signed an action plan for the development of bilateral relations between Ukraine and Turkey for 2017-2019.
After the meeting of the strategic council, the sides signed a memorandum of cooperation between the Diplomatic Academy of the Ukrainian Foreign Ministry and the Diplomatic Academy of Turkey. The document shows the readiness of the two educational institutions to develop cooperation in the educational sphere, promotes the exchange of scientific experience and the development of educational programs between the diplomatic academies of Ukraine and Turkey.
The sides also signed an intergovernmental agreement introducing amendments to the agreement on mutual assistance and protection of investment. The document defines the procedure for facilitating the attraction of mutual investments from Turkey to Ukraine and from Ukraine to Turkey, determines the mechanism of their mutual protection in the territories of both states, and promotes a fair and equal regime of investment.
In addition, the sides signed a protocol between the governments of Ukraine and Turkey on the introduction of amendments to the agreement on avoidance of double taxation and the prevention of tax evasion with respect to taxes on income and property, as well as an implementation protocol between the Cabinet of Ministers of Ukraine and the Government of Turkey on cooperation in the field of geographic information.
Contracts between Ukrainian and Turkish defense companies were also signed.
op