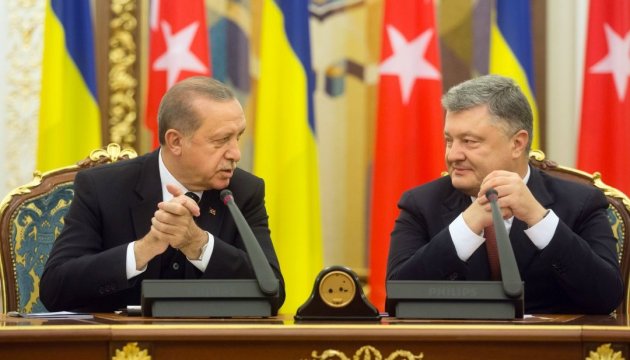 Erdogan sees Ukraine as key to security and peace in region
Turkish President Recep Tayyip Erdogan has said that relations between Turkey and Ukraine are developing and deepening day by day.
He stated this at a joint briefing with Ukrainian President Petro Poroshenko on October 9, an Ukrinform correspondent reports.
"Relations with our friend, neighbor and strategic partner, Ukraine, are developing and deepening day by day. This year we celebrated the 25th anniversary of the establishment of diplomatic relations between our countries. Over a quarter century, we have formed the fundamental elements of our relationship - friendship, solidarity, and cooperation," he said.
Erdogan added that Ukraine was a key country "in the stability of security and peace in our region."
"Therefore, we regard our bilateral relations precisely from strategic positions. In 2003, we declared the country as one of the priority partner countries. In 2011, after establishing a strategic council, we brought our relations to the highest level. After the agreement on the visa-free regime came into force in 2012, this year we started the practice of our citizens traveling on national ID cards," Erdogan added.
He also said that he was happy to visit Ukraine again. "A meeting of the High-Level Strategic Council has been held for the sixth time. I am happy to visit Ukraine again on the occasion of such a meeting over the past two years," Erdogan said.
op