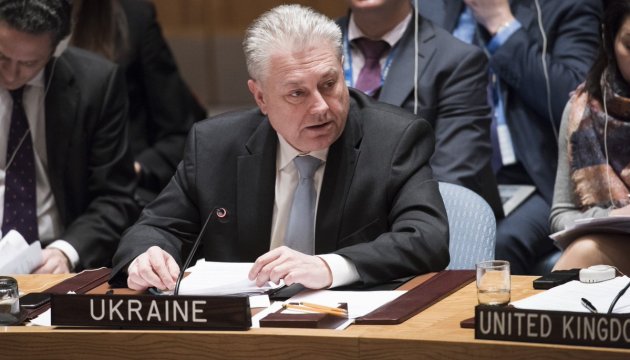 UN should strengthen peacekeepers with intelligence and aviation technologies - diplomat
Ukraine will remain a reliable UN partner in peacekeeping operations despite large-scale Russian aggression and forced armed confrontation with the invader.
Ukraine's Permanent Representative to the UN Volodymyr Yelchenko made such a statement at a meeting of the UN Security Council on October 5, an Ukrinform correspondent reports.
"Ukraine will do its outmost to remain a reliable partner of the UN peacekeeping endeavor even in times when my country itself requires UN peacekeeping assistance in light of continuing foreign aggression," he said.
At the same time, Yelchenko drew attention to the possibility of significantly improving the effectiveness of the implementation of mandates of UN peacekeeping operations. First of all, he said, the UN Security Council should "bring to a new level" a dialogue with troop- and police-contributing countries, including by continuing formal and informal consultations during establishment or renewal of peacekeeping operations' mandates.
In addition, the diplomat said, the missions should be provided with "clear, coherent, achievable, sequenced and, at the same time, resilient mandates drawn in accordance with core tenets of the UN peacekeeping."
According to him, it is also necessary to closely monitor and assess practical progress in mandate implementation of every single mission, identify those in need of restructuring and to thoroughly consider every mission's mandate "with the focus on supporting a political solution to the conflict."
Concerning capability gaps, Yelchenko stressed the need to pay due attention to securing proper funding and providing sufficient aviation assets (both combat and cargo), as well as making use of advanced intelligence and modern technologies.
op