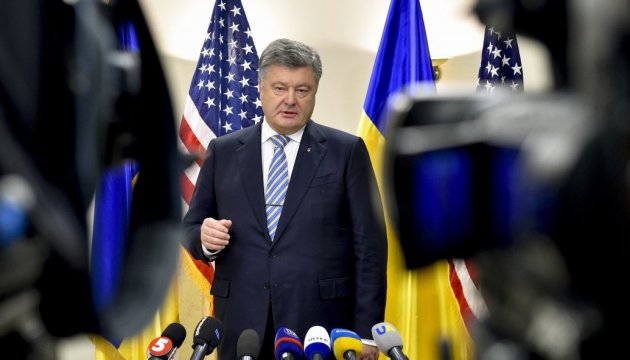 Poroshenko on meeting with Trump: We felt true shoulder of friend
Ukrainian President Petro Poroshenko has praised the results of his meeting with U.S. President Donald Trump and his team.
He stated this at a briefing for Ukrainian journalists after talks with the U.S. leader in New York on Thursday, an Ukrinform correspondent reports.
"I can say that the meeting, which lasted an hour, was extremely productive. We felt the true shoulder of our friend and partner. I can say that as president, I am extremely pleased with the current unprecedented level of cooperation between Ukraine and United States," Poroshenko said.
In this regard, he noted the positive outcome of the negotiations on several aspects.
First, "it was very important to hear the full, very powerful support of the reforms taking place in Ukraine and a positive assessment of the results that we achieved through these reforms." The president also said that bilateral cooperation in support of reforms "will continue to be effective."
Secondly, he said, there was "a very lively and detailed discussion" regarding future aspects of cooperation between Ukraine and the United States. "We agreed that our main goal is to de-occupy [Donbas and Crimea], restore sovereignty and bring peace to Ukrainian soil as soon as possible," Poroshenko said.
Thirdly, there was a detailed discussion of economic cooperation, he said. "I'm particularly pleased to note the great success regarding the first placement of Ukrainian sovereign bonds on world markets and the high demand for Ukrainian securities. Investors vote with dollars for success and confidence in Ukrainian reforms," Poroshenko said.
In this regard, he said that a significant number of these investors had represented U.S. companies. "It is also a form of confidence in the success of Ukrainian reforms not only by the American authorities, but also by American business," Poroshenko said.
In addition, according to him, "a shared vision of a new quality of security cooperation" between Ukraine and the United States is extremely important. "We discussed in detail all the directions for expanding this cooperation, starting with cooperation with the West Point Military Academy, which we visited a few days ago, and ending with cooperation with the U.S. Department of Defense and other institutions," Poroshenko said.
op