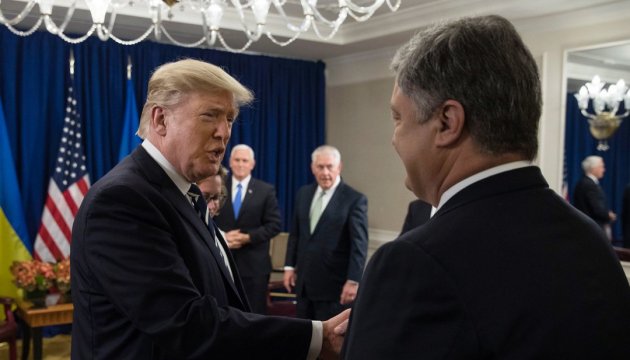 Trump calls on Poroshenko to continue fighting corruption
U.S. President Donald Trump has called on his Ukrainian counterpart Petro Poroshenko to continue the fight against corruption and improve the business climate in the country, reads a statement posted on the website of the White House.
"President Trump welcomed Ukraine's reforms that contribute to the country's economic growth and its defense capability, and encouraged President Poroshenko to continue working to eliminate corruption and improve his country's business climate," reads the statement.
Trump reaffirmed American support for Ukraine's sovereignty and territorial integrity. The presidents also discussed ways to achieve peace in eastern Ukraine.
As reported, Poroshenko met with Trump on September 21 as part of his working visit to the United States. The Ukrainian leader described one-hour talks as productive.
He noted that Ukraine and the United States had a shared vision of cooperation in the security sphere and that Ukraine would continue its cooperation with partner countries in supporting reforms.
Poroshenko also said that Washington had fully supported Ukraine's proposal on the deployment of a UN peacekeeping force to Donbas.
op