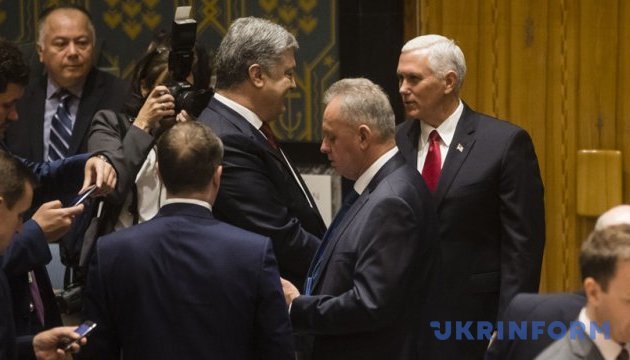 Pence calls Russia a threat to keeping peace
The UN's major task is to preserve peace on the planet, but several countries and terrorist groups, including Russia, are trying to destroy the peaceful balance.
U.S. Vice President Mike Pence said this in his speech at a UN Security Council meeting on Wednesday, an Ukrinform correspondent reports.
"We are here today to discuss what I believe is the most important mission of the United Nations: keeping the peace," he said.
He noted that the world was now again confronted by those who "who threaten us with chaos, with turmoil, and terror, who seek to undermine the sovereignty, prosperity, and security." In this regard, he called a number of such threats.
"In Eastern Europe, Russia continues to compromise the sovereignty of its neighbors as it seeks to redraw international borders by force," Pence said.
In addition, according to him, "radical Islamic terrorism continues to beset nations with barbarous attacks" - in Barcelona, Paris, London. In the Middle East, "the world's leading state sponsor of terrorism" continues to flout the spirit of the Iran Deal, destabilizing the region and brazenly threatening the security of sovereign nations.
"A depraved regime in North Korea is relentlessly pursuing nuclear weapons and ballistic missiles. And now, as the President said, 'threatens the entire world with unthinkable loss of human life,'" Pence said.
op