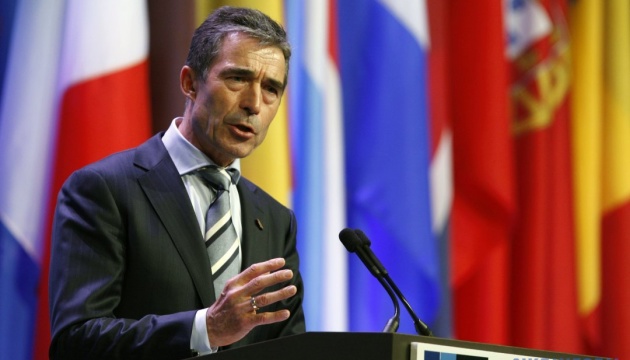 Rasmussen: NATO countries could and should provide Ukraine with defensive equipment
Taking into account the resilience and courage of the Ukrainian soldiers who oppose Russian aggression, NATO should provide Ukraine with military and technical assistance.
Ukrainian presidential advisor Anders Fogh Rasmussen said this in exclusive comments to an Ukrinform correspondent in Brussels.
"I was impressed by the resilience and courage of the Ukrainian forces. However, the soldiers I met need equipment to locate the enemy, to jam their communications, and to communicate securely among themselves. All this is defensive equipment that NATO allies could and should provide," he said.
Rasmussen also stressed that no country should have a problem with providing Ukraine with defensive weapons.
"This conflict has caused villages to be cut in half, water supplies interrupted, millions of Ukrainians living under occupation, and an endless flow of weapons and manpower in the region. We need an international peacekeeping force across the region to protect people and critical infrastructure. This can only be effective if the peacekeepers have a mandate to cover the entire territory - to the border - and to protect the thousands of innocent people caught up in this conflict," Rasmussen said.
As reported, on September 17, a foreign delegation headed by Ukrainian presidential advisor Anders Fogh Rasmussen visited the positions of Ukrainian troops and the settlements of Donbas affected by the Russian occupation forces.
ish