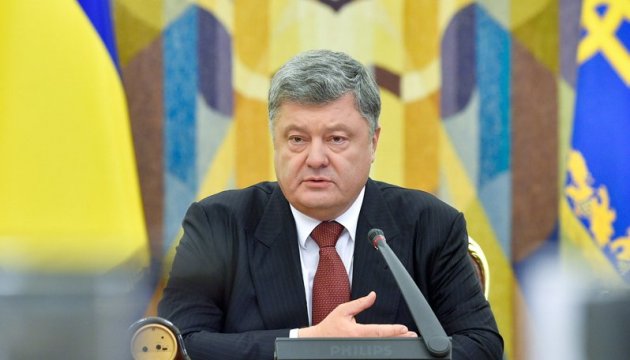 UN peacekeepers should be located throughout Donbas territory – Poroshenko
Ukrainian President Petro Poroshenko states that UN peacekeepers should be deployed throughout the territory of occupied Donbas, including the territory where Russia keeps weapons.
The Head of State wrote this on his Facebook page.
"Putin's proposal for the location of "blue helmets" only along the contact line is absolutely unacceptable. The main goal is that they should be located throughout the occupied territory. Peacekeepers must be present everywhere, including the territories where Russia keeps weapons, and on the uncontrolled section of the Ukrainian-Russian border," the President emphasized.
According to him, it would quickly stop the flow of Russian troops, weapons and ammunition. "Potential of aggression would be stopped," the Head of State said.
As reported, Russian President Vladimir Putin said at a press conference following the BRICS summit on Tuesday, September 5, that he considered the presence of peacekeepers in Donbas for OSCE security appropriate, but these forces should be only on the line of demarcation, and this issue must be coordinated with the representatives of the self-proclaimed republics.
ish