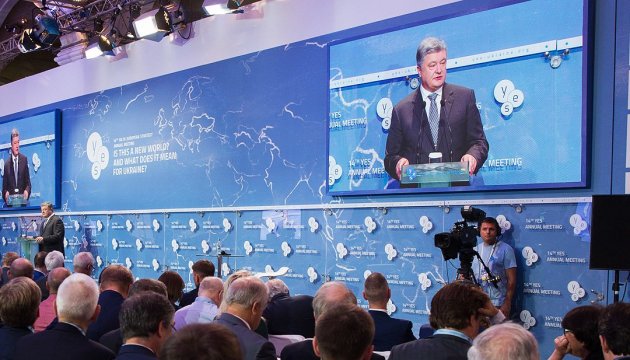 Associated countries should join discussion about future of Europe – Poroshenko
The associated countries should join the EU member states in the discussion about the future of Europe.
President of Ukraine Petro Poroshenko said this at the opening of the plenary sessions of the 14th Annual Meeting of the Yalta European Strategy (YES) on Friday.
"I believe that the initiated discussion about the future of Europe should not be confined exclusively to the current EU countries. The candidate countries and the associated countries, which want to share responsibility for a new Europe, should be invited for the discussion," the Ukrainian President said.
Poroshenko stressed that the idea of European integration should get "a new breath, new dynamics." "I support the vision for further development of the European Union of my friend and sincere friend of Ukraine, European Commission President Jean-Claude Juncker, which he outlined in his State of the Union speech. The proposed roadmap for a more united, strong and democratic [European] Union opens up the opportunities for creating a qualitatively new Europe that can meet the global challenges of the 21st century," he said.
ol