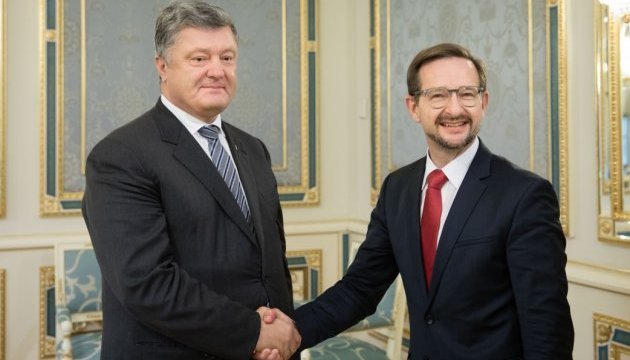 Poroshenko, OSCE general secretary discuss UN peacekeepers in Donbas
Ukrainian President Petro Poroshenko has met with newly appointed OSCE Secretary General Thomas Greminger to coordinate approaches to the deployment of a UN peacekeeping force throughout the territory of the occupied Donbas, the presidential press service has reported.
"The sides also coordinated approaches to the deployment of a UN peacekeeping mission throughout the territory of the occupied Donbas. Petro Poroshenko stressed the importance of establishing an intensive dialogue between the OSCE and the UN on this matter," reads the statement.
Poroshenko briefed Greminger on the situation in the Donbas, the implementation of the Minsk agreements, and also outlined his vision of the strategy for the de-occupation of Crimea.
"The sides discussed the activities of the OSCE SMM [Special Monitoring Mission] and the needs for strengthening the operational activities of the mission. Petro Poroshenko asked the secretary general to facilitate the provision of the SMM with new technical equipment, which will increase the quality of the daily work of SMM observers. They stressed the importance of full and unhindered access for the OSCE SMM to the entire temporarily occupied territory of the Donbas, including the uncontrolled section of the Ukrainian-Russian border," the press service reported.
The president also urged the OSCE secretary general to use all possible mechanisms of the organization to free Ukrainian political prisoners in Russia and Crimea, as well as hostages held by the Russian occupation troops in the Donbas.
Greminger welcomed the appointment of Ukraine's special representative on the Transdniestrian settlement.
op