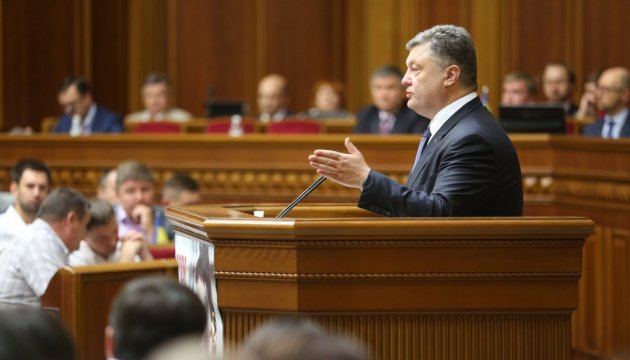 Poroshenko calls Saakashvili's breakthrough into Ukraine a crime
Ukrainian President Petro Poroshenko has described as a crime the illegal crossing of the state border by former Head of Odesa Regional Administration Mikheil Saakashvili and a group of MPs.
He said this at a meeting on the development of rural medicine on Monday, an Ukrinform correspondent reports.
"In any legal state, a person has the right to challenge any normative act in an administrative court, in this case, in the Higher Administrative Court. I, as president, will surely comply with any court ruling. If you don't like the decision of the Ukrainian courts, apply to the European Court of Human Rights. This is the legal framework. More than one-and-a-half months have passed, but nobody appealed to court... A crime was committed instead," he said.
According to him, the inviolability of the state border is a constitutional principle. "This is a matter of national security," Poroshenko said.
In his opinion, it does not matter who violates the rules for crossing the state border, be it militants in the east or politicians in the west. "There must be clear legal accountability," Poroshenko said.
As reported, Saakashvili arrived in Ukraine from Poland on September 10 by breaking through the state border at the Shehyni checkpoint with a group of MPs.
According to Interior Minister Arsen Avakov, 16 border guards and police officers sustained bodily injuries during the incident.
The National Police of Ukraine opened a criminal case.
op